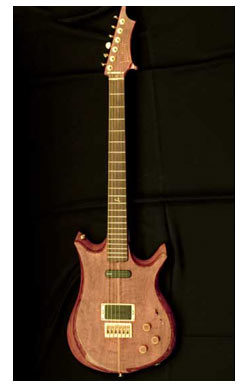 Electric or electro- acoustic guitar
Mod.SIMO
It comes out of two shapes one laid upon the other: one for the top and one for the body, so to make the aesthetic outline more wavy and play with the combinations of different woods, but maintaining the ergonomic shape to please the player.
Inside the body , a tonal chamber has been made to increase the sustain (?) and lighten the instrument .
All the pick-up systems ( HH; SSH; SSS ), active and passive, . are available and also a piezo bridge ( fixed or movable ) for an electro-acoustic guitar.
Different woods for a custom made instrument can be made on request.