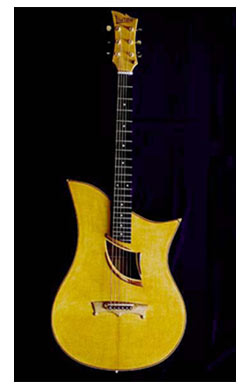 TULIP mod. Poppi
Tulip has an innovative, unique body shape,with double cutaway that, to make, to make the distinctive two ends shape . Two different Body depth : 65 mm or 95 mm

The neck is inserted into the 16th fret ( so that it's easier to reach the highest frets) and becomes thicker, behind the nut, where the board is weaker.
The fret board is suspended to let the top vibrate in all the frequencies.
The hole has the shape of a sail, lightly flared down as to the instrument axis.
The bridge, with a crown shape, is thinner at the sides to make it lighter.
The back is lightly convex for a better deep sound The rose is made in vintage woods round the hole line
The board inlays are made on request The painting is shellaced Reduced weight to let the musician play standing up without getting tired The sound ... to try!!!