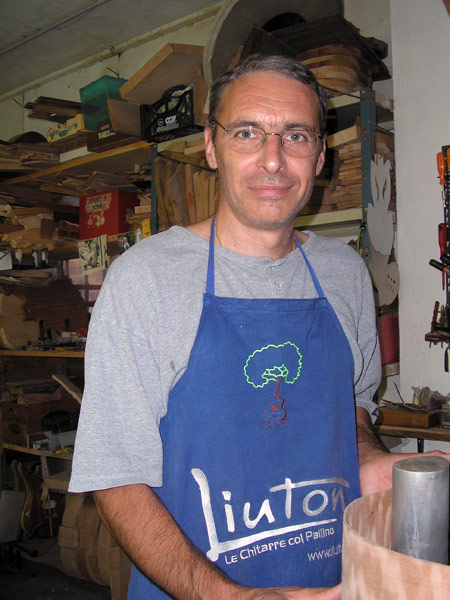 I started to play the guitar when I was 16 and immediately I conceived such a passion for this instrument to think that ,one day in my life, I would create my own craftmade guitar. I inherited the passion for woodcarving from my grandfather, who works olive wood, and little by little, with a lot of patience, I've tried to learn the ancient and fascinating job of the liutemaker, 500 years after my famous predecessor Gasparo da Salò, a very important inheritance in the art of making stringed instruments in the Brescia area.

In 1998 I attended a course in Cremona to learn how to make a classic guitar and meanwhile I opened up a stringed instruments shop, meant especially for professional guitars ( assistence, repair and custom-made instruments). I was thinking of starting on my own production and I realized immediately that I had to choose between making copies of famous guitars or create something completely new, an instrument made to measure. But where I live we say that if you want to make something special you need a flair, translated in italian with the idiom " avere il pallino" that litteraly means "to have the craze".
But the single word "pallino" in italian means also "spot" and that's why a little ball has become the logo on the head of the guitars I produce.
During that time , after having made my own classic guitar with my first inlay work on the fingerboard, I produced some electric guitars on request, starting to think up a personal body shape that could combine originality, playability,aesthetic, lightness and some innovations that coluld be helpful for modern guitarists...
The most special electric guitars I made are: an electric-acoustic one that combines the sound of pick-ups to that of piezo bridge and a guitar with three different amplification systems: electric, acoustic and midi and separated outs.
I ventured into the production of an amplified violin, creating a 5 strigs amplified one with the top in Olive wood, the body in Mahogany and 4 string one, in Maple, Cherrywood and Pink Ivory wood, that I'm very proud of. Time had come to start with an acoustic guitar. So I decided to draw a new shape, different from the traditional ones. I wanted to build a unique instrument that could be very recognizable in the artist's hands, slender, unusual, distinguishing, meant for effect... a guitar for the stage: this is how TULIP was born. I submitted it to a profesional guitarist who agreed to wait for the birth of the first instrument especially made for him and to test it on stage... and the TULIP didn't disappoint my expectations. Born to be an amplified guitar, it gave out an effective and clear sound with remarkable accents on middle and ligh sounds. After the Tulip I made other models a bit different : the wood and the size , but all with the little ball ( "pallino") in common.